The Traditional and Adventures Sports in India
India has a vast and unique culture, so every state has its own traditional sports to follow. India become the land of traditional sports like Kushti The Indian Wrestling, Vallamkali, Jallikattu and many more. India is also known for its diversified culture and traditions. One of the traditional sports in India is Mallakhamb also known as the pole dance of India, it is one of the very difficult sports in India. There are few famous villages sports are also very adventures sports in India. I am listing few most popular traditional sports in India.
Sports is one of the major platform to create bridge between generation and countries and also bring culture. Sports helps to keep human live strong and active physically. sports can motivate to learning activities and encourage to build spirit of leadership.
In villages and rural area, sport is one of the major activities to encourage.
Hockey is the indian national game. like there are many rural games among us.
We must encourage and support talented from village and rural areas expose them in the present world who missing better opportunities.
Our Trust will encourage sports by creating sports planning programs under experts guides for kids and young generation.
Kushti
The Indian wrestling is the best sports to play and maintain the physic. It needs to be follow some set rules to become a wrestler. A heavy diet and strict discipline is to be maintain by the wrestler. Famous Indian wrestler Sushil Kumar is the Indian world wrestling champion of 66 kg freestyle wrestling games and winner of Bijing and London Olympics. Indian wrestling is one of most popular and difficult type of traditional sport in India,mostly played at North Indian state of Punjab and Haryana along with Maharashtra.
Kabaddi
It is one of the most popular sports in India played by the people in villages as well as in small towns. Kabaddi is an Indian game which requires both power and skill for its play. It is a simple and inexpensive game and doesn't require any playing equipment. Regular Kabaddi tournaments are held throughout the country.
Kho-Kho
Kho-Kho is one of the most popular traditional sports in India. Kho Kho is a 'run and touch' game that is very simple to play and can be enjoyed by people of all ages. It does need any good physical fitness just need skills to play.
Mallakhamb
Mallakhamb is a traditional Indian sport in which a gymnast performs poses and feats while hanging from a vertical wooden pole or rope. It is also used as a form of exercise to get high level of fitness by the Phalwan or Indian Wrestlers. This is the one of the beautiful Indian sports.
Gilli-Danda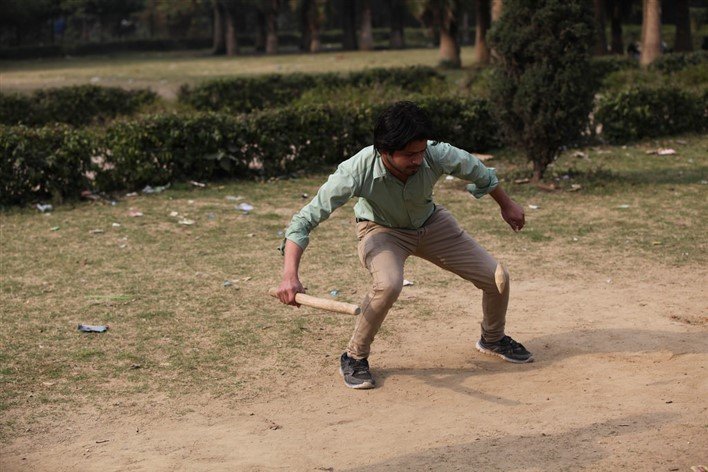 Gilli-Danda is an amateur sport played in the rural areas and small towns all over India and Pakistan as well as Cambodia and Italy. This sport is generally played in the rural and small towns of the Indian subcontinent. It is widely played in Punjab and rural areas of the North-West Frontier Province and Sindh (Pakistan) and Sultanpur district, Uttar Pradesh (north India).